Main Content
Falling Into the Perfect Career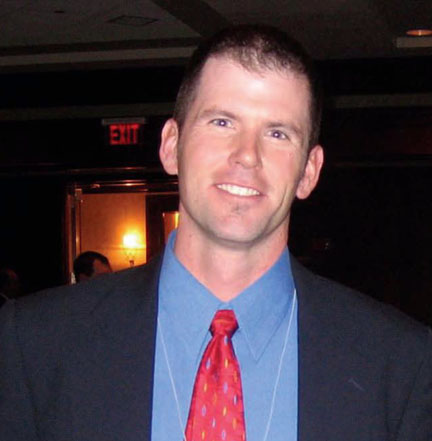 After working several different jobs in the resort town of Steamboat Springs, Colorado, James Dall learned two things about himself: he likes management, and he enjoys working outdoors. Dall graduated from Colorado State University with an English degree in 1994 and immediately set to work, managing a car wash and a restaurant and working as a ski lift operator in the winter months. It was during a period of downtime between ski seasons that a friend recommended he get a job at a golf course. Dall played golf "very poorly," he jokes, but the chance to be outside and play free rounds was all the incentive he needed to become a golf course maintenance crew member. Since then, Dall has worked his way up to golf course superintendent at Cobblestone Golf Course in Kendallville, Indiana.
As soon as he began work on the course, Dall knew that it was for him. "I fell in love with it," he says. "I wanted to figure out how best to change from just mowing grass to growing grass." Seeing his enthusiasm for the work, Dall's manager showed him a brochure for the Rutgers Professional Golf Turf Management School Two-Year Certificate Program, offered by the NJAES Office of Continuing Professional Education. The program runs for a total of twenty weeks over two years, giving students a chance to work full-time for nine months and attend ten weeks of classes each year. In class, students learn about golf turf management from respected professionals as well as members of the renowned Rutgers faculty. The ten-week schedule fit perfectly with the ebb and flow of work in a resort town, and Dall was able to earn his turf management certificate without missing out on work opportunities.
Two-Year Golf Course Turf Management: A Hole-In-One
Dall was not disappointed in his Rutgers experience. "Going to class every day was like opening a new present on Christmas morning," he says. "The course was amazing." From the accommodating administrators to the knowledgeable instructors, everyone at OCPE worked hard to help Dall and his classmates get the most out of the program. With support from his classmates, Dall became his the president of his class, which gave him the leadership skills required for a turf management job, and he was elected to his local association's board of directors in February 2009.
The well-rounded education Dall received at Rutgers prepared him for more than what he could have learned on the job in Steamboat Springs. The disease and insect identification lessons proved to be especially useful when he and his family relocated to Indiana, where turf is plagued by different difficulties than in Colorado. Perhaps the most valuable part of the course for Dall, however, was the class on networking and professional development. Moving to a new state at the beginning of his career meant starting from scratch again, but with the lessons he learned at Rutgers, Dall made himself known to his new colleagues, and the contacts he made eventually helped him land a golf course superintendent position.
Growing His Job Into a Career
Dall's education has stayed with him since he received his Rutgers turf management certificate. "I use the course regularly," he says, adding that, after the course, "I just wanted to go out and mentor guys who were interested in it, just as I am, and send them to Rutgers." Dall understands how the economy can make finding work difficult, and he recommends the Two-Year Program as a way to get ahead. "The Three-Week Course is a good primer," he explains, but "the Rutgers name and the Two-Year Certificate certainly hold their weight in the industry."
In fact, all kinds of turf professionals can benefit from a turf management education. "There are certainly many opportunities other than golf course superintendent," explains Dall, describing how a friend who also attended the Rutgers program now owns his own lawn care business. The challenges and diversity involved with turf management are, ultimately, what Dall loves so much about it. The education he received from Rutgers gave him the skills he needed to turn a job he liked into a career he loves. "The program, with the Rutgers name behind it, was my way of converting a four-year degree into a turf education, and a good one at that."
Learn more about the Rutgers Two-Year Turf Certificate!