Main Content
Written by Margaret McHugh; originally published Spring 2012

With its snowy winter, soppy spring, hurricane-ending summer, and a freaky fall nor'easter, 2011 was tough on trees.
In October 2011, trees in full foliage cracked under wet snow and high winds. Toppled trees and broken limbs took down power lines, blocked roads, and damaged cars and homes across the northeast.
The damage, with costs estimated in the billions of dollars, underscores the importance of monitoring the health of trees. "With most of the trees that came down, you could have predicted the tree had a problem had they been inspected by a qualified arborist prior to the storm," said Steve Chisholm, a third-generation arborist.
Chisholm and fellow licensed tree expert, Ted Szczawinski, teach an arborist training and landscape course titled Hazardous Tree Identification at Rutgers University's Office of Continuing Professional Education. The course helps arborists, landscapers, shade tree commission volunteers, and others identify hazards and learn ways to prevent and fix problems.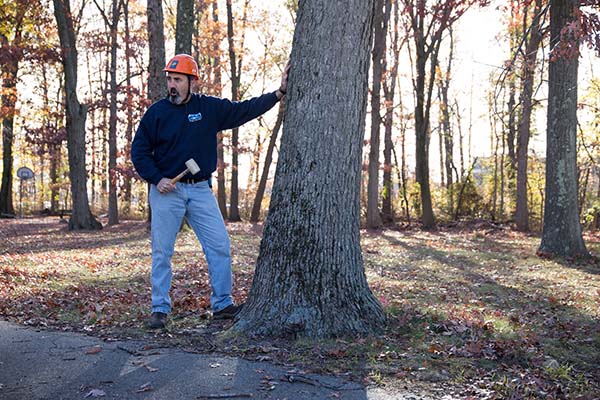 While severe weather can damage even healthy trees, factors such as improper pruning, structural defects, pest infestation, and disease can weaken trees and contribute to their demise.
"Most trees don't fail because of one problem. It's usually a combination of several factors," Chisholm said. Crews from Chisholm's Aspen Tree Expert Co., Inc., based in Jackson, worked 16-hour days clearing trees to help restore power to North Jersey after the Oct. 28 snowstorm.
Some causes of hazardous trees are manmade, like when certain species are planted too close to roads, power lines, and structures. While oaks and hickories are sturdy and less prone to defects, species including willows, poplars, sassafras, and silver maples are "weak-wooded, and you wouldn't want them close to a building," Chisholm warned.
Szczawinski said his home lost power in the nor'easter when a 230-year-old red oak tree in North Caldwell toppled. A road had been built within a foot of the massive tree, causing its roots to fail over time, he said.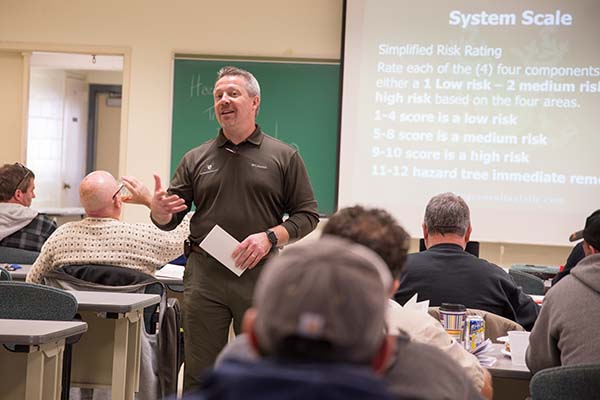 Improper pruning also weakens trees and can turn them into hazards, said Szczawinski, an arboricultural instructor for over 20 years and dean of students at the Bergen County Technical High School.
Like people, trees require checkups to stay healthy. Szczawinski said, "You assess, and then mitigate if needed." A member of the Little Falls' shade tree commission, Szczawinski said the town's trees survived the October nor'easter well "because we are ahead of the curve on most hazards."
Szczawinski is concerned that storm damage has demonized trees. "Some people now think trees are dangerous, and the knee-jerk reaction is to remove every tree," he said. But removal is not always necessary, and can actually create a hazardous condition if, for example, the tree had been protecting a home. Proper pruning or installing cables for support often can correct the problem, he said.
Assessment is key, but so is having a skilled specialist maintain trees. Too often, the poor maintenance of trees is the culprit, Chisholm said.
There are times, of course, when even the most prudent caretaking can't prevent loss. One of Chisholm's clients in Allentown lost seven big oak trees when a lake overflowed onto their property during Hurricane Irene. The super-saturated ground acted like a lubricant, allowing winds to topple the trees, he explained. And, as if to add insult to injury, the one tree Chisholm had identified before the storm as needing to be removed was among the five survivors.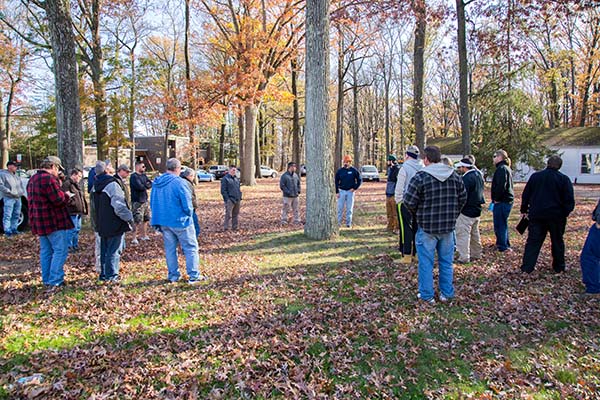 Learn more about Rutgers' Tree Care Courses!