Main Content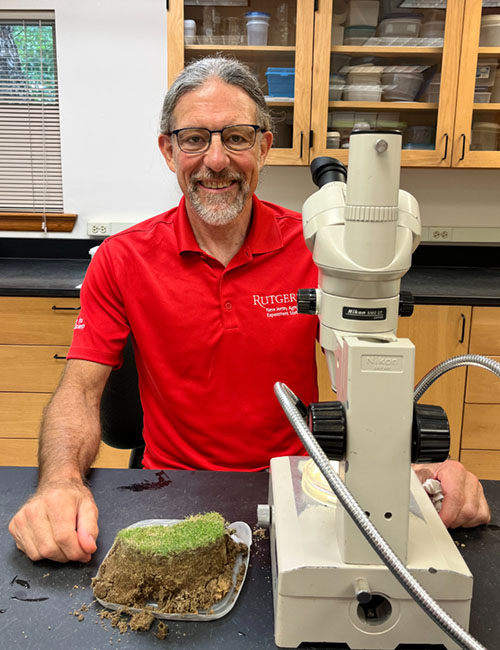 When Rich Buckley came to Rutgers to earn his masters degree in plant pathology in 1988, his boss told him, "You're going to work in turfgrass." Dr. Phil Halisky was referring to turfgrass science, and today Buckley is the highly respected director of Rutgers University's Plant Diagnostic Lab and Nematode Detection Service.
The Plant Diagnostic Laboratory is a full-service plant health diagnostic facility sponsored by Rutgers Cooperative Extension, the outreach component of the School of Environmental and Biological Sciences and the New Jersey Agricultural Experiment Station. Its mission is to provide accurate and timely diagnoses of plant health problems for the residents of New Jersey. Buckley is the principal diagnostician and has looked at well over 30,000 samples of dead and dying plant material in his career.
Buckley is also a prolific public speaker. He is an instructor in the Rutgers Professional Golf Turf Management School and teaches many classes in our Landscape and Grounds Management program area.
Buckley's lab is a testament to his mission: computers hooked up to microscopes surround the room, leaf and soil samples are everywhere, and a sense of hospital-like urgency fills the air. In fact, Buckley said, "We are the emergency room for dying plants." Many of Buckley's former students in the Rutgers Professional Golf Turf Management School remember him and are oftentimes the biggest source of patients to the lab. The first time Gray Leaf Spot was diagnosed in the laboratory, the sample came from a former student. "It's a fungal disease that kills a lot of grass very quickly. It came to us in 1993 from the assistant (a former student) at Philadelphia Country Club. The disease subsequently turned into a real epidemic and killed a lot of grass on golf courses and sports fields in our region."
In class, Buckley has two missions: one is to prepare students to work with golf turf. "Golf course putting greens are artificial by nature. Managing grass to optimize the game of golf is often in conflict with the health needs of the grass. The conflict makes the grass susceptible to diseases and insects. In class, I teach students how to recognize and manage the problems that pop up," he explains. Buckley's other mission is to get students to think about what they are doing. "Managing plant health entails a lot more than following a 4-step program. We try to teach the love of learning and turn average folks into lifelong students of science."
After more than 20 years in the New Jersey turf arena, Rich Buckley believes that the turfgrass industry is filled with job opportunities. "Many of our turf school students have gone on to very successful careers in the turf industry," he said. And he credits Dr. Halisky for his own successful career in this field. "Dr. Halisky was a prophet in my life. Turfgrass science has given me a great career, and I am truly grateful for that."
Learn from Rich Buckley and Many Other Industry Experts at Rutgers Professional Golf Turf Management School!