Main Content
Written by Andrew Elwell, Rutgers Centers for Global Advancement and International Affairs
This story was originally published on the Rutgers Centers for Global Advancement and International Affairs website in 2013. It has been reprinted with permission.
Bruce Neary, owner of BCN Horticultural Services in Brick, NJ, shows a group of students a photograph of the entrance to a golf course. The entrance, with its neglected landscaping and rundown look, could use some tender loving care.
"Does this look like you take care of the property?" Neary asks. "Your entrance says a lot about the golf course itself."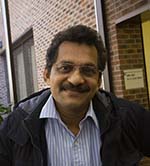 Among the students paying rapt attention to Neary is Raju Thupran, a Horticulture Specialist at King Abdullah University of Science and Technology in Saudi Arabia. Thupran is one of more than 50 students participating in a Three-Week Preparatory Course offered by the Rutgers Professional Golf Turf Management School, part of the Office of Continuing Professional Education (OCPE). The program, taught by Rutgers faculty as well as professional experts like Neary, is one of several offerings from the Professional Golf Turf Management School that helps students learn the science behind turfgrass management and put their skills to work.
For those who are new to the field, the three week course gives them a taste of what the industry is all about and allows them to quickly learn foundational skills. For those who already work in the business, the three week class gives them the technical skills and knowledge they need to move up the career ladder.
In recent years, the Rutgers Professional Golf Turf Management School has seen an increase in attendance from international students like Thupran. With 20 years of experience in various industries from desert landscaping to ornamental horticulture and in countries from Canada to Oman, Thupran was looking for a way to boost his skills.
"Rutgers' international reputation in turf and golf education is the first thing that I was primarily impressed with," Thupran said of his decision to come to Rutgers. "Also, a three week program fit exactly with my work and vacation schedules so that I didn't need to compromise my current employment and job responsibilities."
The well-regarded school has attracted students from all over the world, with eight international students taking part in this year's three week course and six in the longer two-year certificate program in golf turfgrass management.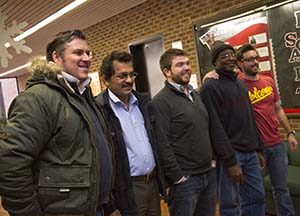 "Throughout the Turf School's history, we've always had international students attend," said OCPE's former director, Ned Lipman, "but this year we definitely saw a jump in interest from around the world. These students tell us they've heard great things about our Rutgers turf management programs."
The increased international student presence dovetails nicely with the international research being engaged in by faculty throughout the program. Faculty like Professor William Meyer travel around the world to collect samples of hardy wild turf specimens. Their goal is to research these specimens back at Rutgers and try to develop new, similarly hardy cultivars – a plant or groups of plants selected for their desirable characteristics – that will grow successfully in the United States.
"The turfgrass research being conducted by Rutgers faculty around the world is truly amazing," said Lipman. "Connecting one-on-one with these instructors is an awesome learning opportunity for both our international and American students."
For Kristian Summerfield, a native of the United Kingdom who currently lives in the Netherlands where he works as a golf course manager for Golfclub De Scherpenpergh, the strength of the faculty as well as his classmates has vastly improved his skills.
"Having been able to speak to some of the world's leading experts on some of the subjects that are relevant to my course has been invaluable, and I will take this information and will implement them straight away on my golf course," he said.
Thupran, who plans to apply the techniques he learned from Rutgers upon his return to his job in Saudi Arabia, agreed.
"It has been a fantastic learning experience with a lot of inspiration, resources and information sharing, and networking opportunities," he said. "It initiated a lifelong friendship with peers from the U.S., U.K., Canada, Africa, and Turkey."
Armed with their new skills, these students will now head back to their homes and jobs, further expanding the reach of Rutgers faculty and students around the world.
Learn more about the Rutgers Three-Week Turf Course!