Main Content
Written by Casey Sky Noon; originally published December 2019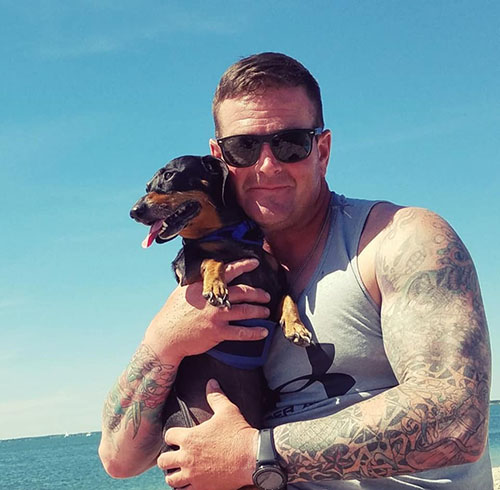 Parked in the darkness alongside an ominous row of graffitied and vacant industrial buildings on the border of notoriously dangerous Compton, California, Eric reclines in the driver's side of his pearl white 2010 Dodge Charger. The tinted windows block anyone from seeing Teaka, his ten-pound miniature dachshund, sleeping in a comfortable curl on his lap. Inside that mobile home with 22-inch viper wheels, the tall blonde man, with a jawline as strong as his construction worker body, and the tiny black pup share every meal.
In Michigan, where he grew up, Eric got mixed up with the wrong crowd. At an early age he fell into the routine of working to party. He got the job, the house, the car, and the girl, then self-sabotaged it all. He moved Teaka and himself to Montana to start fresh, but the party scene found him and he dissolved the life he built up there in Big Sky Country. Las Vegas, not surprisingly, was no better. In Florida and Idaho, the party pattern continued.
"Teaka, this is it girl. It's going to be different this time." His large hands blanket the small dog's entire body as he nuzzles her against his cheek.
After a few months of working at Prestwick Village Golf Club in Highland, Michigan, Eric notices a brochure for the Rutgers Professional Golf Turf Management School on a cafeteria table.
"Hey, what's this all about?" he asks, waving the booklet in front of his supervisor's Italian sandwich.
"It's school for turf. If you wanna make this your living, a program like that will teach you everything you need," he says through a mouth full of salami and provolone.
"Dude, I love working here! I would absolutely do this long term."
"Check it out then."
"I think I will," Eric says.
Without hesitation, Eric gathers letters of recommendation and school transcripts for his application. Once accepted, he comes up with the tuition money and housing expenses. He convinces his parents to pet-sit his beloved Teaka and flies across the country to spend three months studying the science behind turfgrass management at Rutgers University in New Jersey.
Waiting to find out his score on the first turfgrass disease quiz, Eric taps his foot incessantly under his desk. Florescent lights fill the classroom with a constant buzz. Surrounded by acres of grass breeding research plots, the air smells of agriculture – a combination of wet soil and fresh cut plants.
"I knew I'd screw this up. Once a loser, always a loser. Of course, I'm going to fail. Right back to the street again," Eric thinks to himself. "Surprise surprise, Eric fails again. Why do I even bother?"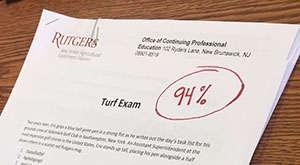 The instructor passes three sheets of stapled computer paper to Eric face down. "Well that's not a good sign," he squints and throws his chin into the air. With a deep breath, Eric flips his sweaty palm and sees a big, "94%" in red ink. "Whoa!" he shouts. The other students look at him. He doesn't even care. "I can do this. I totally got this!"
During the very last final exam of the Rutgers Professional Golf Turf Management School's Two-Year Certificate Program, Eric squeezes a yellow number two pencil as he quickly scribbles the closing sentences of the last essay question. Finished, Eric sits up straight and lays his pencil down with finality.
Two years later, Eric grips a blue ball point pen in a strong fist as he writes out the day's task list for his grounds crew at Sebonack Golf Club in Southampton, New York. An Assistant Superintendent at the most expensive golf course in the United States, Eric stands up tall, placing his pen alongside a half dozen others in a scarlet red Rutgers mug.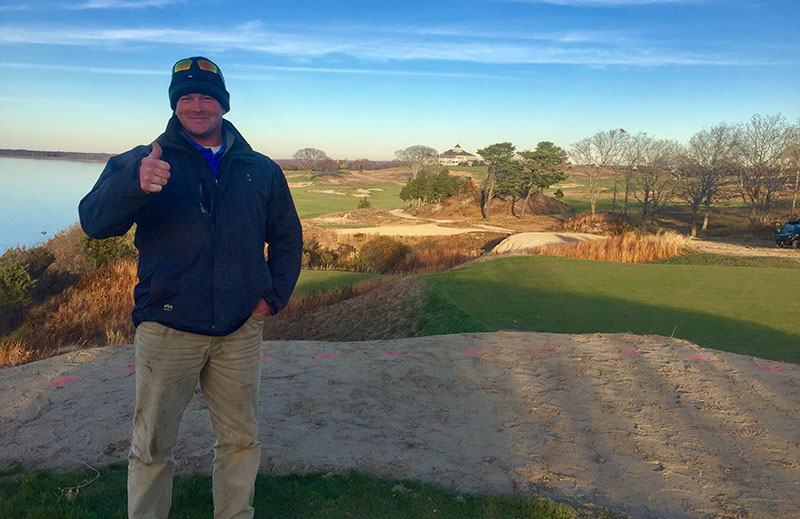 Living out of his car, sharing French fries with his canine best friend, Eric never thought he would step foot on such a high-end golf course, nonetheless help maintain and fashion it. As the Construction Project Manager, he has no shortage of opportunities to redesign and create. In fact, he is now constructing a new tee on the cliff of the 18th hole. It happens to be his favorite spot on the course. From there, you can see the iconic windmill at National Golf Links of America as well as the clubhouse at Shinnecock Hills Golf Course. "This is the Mecca of golf," he says.
Decades of professional building demolition and personal self-destruction are now memories in a closed chapter of his past. Today, Eric is professionally engineering pristine playing fields at the "Augusta of the East" and personally building a healthy and fulfilling life. Energized by the earthy aroma of fresh cut grass, he feels pure contentment in the cool breeze on his cheeks. He hears the waters of Long Island's Great Peconic Bay rhythmically lapping against the sandy shore. They seem to be chanting, "You did it!"

Learn more about the Rutgers Two-Year Turf Certificate!