Main Content

Attendance Costs for Rutgers' Two-Year Turf Certificate Program
Application and Tuition Fees
Application Fee: $50 (non-refundable)
Tuition: $5,395 for each 10-week session ($10,790 total)
The same tuition rate applies to both NJ and out-of-state residents.
If tuition rates go up after your first 10-week session, the tuition rate for your second 10-week session will NOT go up; it will remain the same as the previous year.
Tuition is payable upon acceptance to our program by credit card, certified check, or money order. Personal checks are not accepted.
Books
Textbooks for the program will cost approximately $200. This is not included in your tuition fee.
Travel and Housing
Students living outside of the central New Jersey area will need to budget for travel expenses to the Rutgers–New Brunswick campus. They will also need to arrange for transportation to and from class each day; public transportation is not available.
Housing is not included in the tuition for our turf management certificate program. You must make your own arrangements at your own additional cost. However, we are happy to help! There are a wide variety of discounted, off-campus housing options convenient to the Rutgers campus, including local hotels, extended-stay facilities, and short term apartment or house rentals.
Visit our Travel and Housing page for additional information.
International Student Fees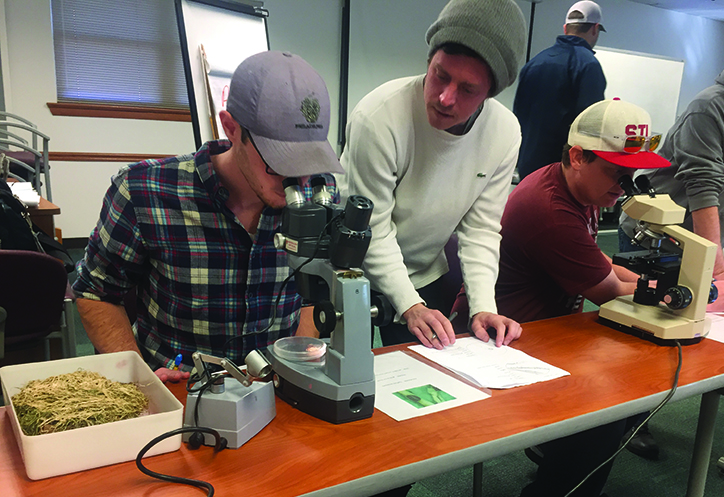 Additional fees apply for international students as follows:
Approximately $750 payable to Rutgers University (for SEVIS administration and health insurance fee) before students can apply for the F-1 visa
$510 to the U.S. Department of State and Immigration and Customs Enforcement (for SEVIS fee and visa fee) after obtaining the form I-20 (required to apply for the F-1 visa)
Please visit our International Students page for more information.
Options for Funding Your Turf Education
Pursuing and achieving your turf education goals may be more affordable than you think. Scroll down to learn more about how our students can take advantage of options such as financial aid, scholarships, and tuition service agreements to help offset the cost of tuition.
---
Financial Aid, Scholarships, and Tuition Service Agreements
Financial Aid
Rutgers Professional Golf Turf Management School offers non-credit, continuing education programs, so traditional financial aid such as FAFSA is not available. However, there are several other financial aid options available to Turf students. See below for additional information.
Student loans are private and credit based. It is important that you begin planning as early as possible and request a disbursement date prior to your class start date. When applying for a student loan to attend the Two-Year Turf Certificate Program, please be mindful of the potential issues surrounding obtaining a loan and be sure to secure your financial arrangements early. Loan disbursements must be at least 4 weeks prior to the class start date. To qualify, you must have good credit or a co-signer with good credit.
Two options you may wish to explore for continuing education loans are the Rutgers Federal Credit Union and SallieMae.
Rutgers Federal Credit Union (RFCU)
To begin the loan process, fill out the RFCU continuing education loan application form. Visit the RFCU website for more details. You will need to present an invoice and an acceptance letter to RFCU when you apply for a loan. Contact Becky Rathmill at 848-932-7138 or via e-mail at rsheil@njaes.rutgers.edu to request these documents.
SallieMae
Sallie Mae will pay Rutgers University directly and that money will be applied toward your tuition fees. If you take a loan for more than your tuition, Rutgers will issue a refund check to you for the amount over the tuition fees*.

To begin the loan process, visit www.salliemae.com and select Undergraduate Student Loan. Details for your SallieMae application:
Select State: NJ
Select: Undergraduate degree (Do not choose career training)
Select School: Rutgers – University, OCPE Continuing Education, New Brunswick, NJ, 00262997
Degree/Certificate of Study: Other
Grade Level: Certificate – Continuing Education
Enrollment Status: Half time
*PLEASE NOTE:
It takes Rutgers 6-8 weeks to process and mail refund checks. If you need this money by the start of class (e.g., for food, housing, etc.), we recommend that you choose a loan start date on your application of 8 weeks (or about 60 days) before the class start date.
The refund check will be mailed to the address we have on file for you; it will not be hand-delivered to you in class. Typically, this is your primary home address. Make sure there is someone available at your address to receive the check and deposit it or forward it to you, or you will not be able to access these funds until you return home after the 10-week session at Rutgers ends.
529 College Savings Plans
Do you have a 529 college savings plan? If so, you can use those funds to pay for your Rutgers Turf School education!
Once you're accepted into the Rutgers Turf program, request an invoice from us showing the amount due and give that to your 529 plan financial advisor. The funds to cover the cost of our course will be released directly to YOU. You should deposit those funds into your own account, then pay us directly using whatever form you choose (i.e., check, e-check, debit/credit card). It's as simple as that!
If your 529 plan requires that you submit a receipt showing your payment to us, let us know. We're happy to provide it to you!
Both our Two-Year Certificate Program and Three-Week Preparatory Course are approved by the New Jersey State Approving Agency for Veterans Training for educational benefits through the GI Bill®. All eligible U.S. veterans around the country are encouraged to apply for benefits. For more information, visit our Veterans GI Bill® Educational Benefits page.
GI Bill® is a registered trademark of the U.S. Department of Veterans Affairs (VA). More information about education benefits offered by VA is available at the official U.S. government website at http://www.benefits.va.gov/gibill.
Lifetime Learning Tax Credit
Students who attend Rutgers Professional Golf Turf Management School may qualify for a 'Lifetime Learning Tax Credit.' The tax credit is subject to income and other limitations. For more details, consult IRS Publication 970, "Tax Benefits for Higher Education" or discuss with your tax advisor. Visit Visit https://www.irs.gov/publications/p970 for information.
Scholarships
There are a wide variety of scholarships available through local and regional golf course and superintendent associations. In addition, countless other scholarships may be available in a multitude of other categories or related industries. We encourage you to do your research and spend time finding and applying for any scholarships for which you may be eligible!
Rutgers offers one of the richest pools of turf management scholarship opportunities in the country. The Rutgers Center for Turfgrass Science coordinates the scholarship program. Awards typically range from $500 to $3,500 and are provided by leading turfgrass associations, foundations, endowments, and corporations in the metropolitan area. The following scholarships will be included in this program:
New Jersey Landscape Contractors Association Scholarship Awards
New Jersey State Golf Association and Ralph Engel Caddie Scholarship Awards
New Jersey Turfgrass Foundation Scholarship Awards
Paul DesChamps Memorial Scholarship Awards
Peter Loft Memorial Scholarship Awards
Ralph Engel Scholarship Awards
Ralph Geiger Scholarship Awards
Rutgers Center for Turfgrass Science Scholarship Awards
Rutgers Turfgrass Alumni Association Scholarship Awards
Sports Field Managers Association Scholarship Award
NEW! Starting in 2023, first year students are now eligible to apply for Rutgers scholarships. To be considered, first year students must be accepted into the two-year certificate program and have submitted their $1000 deposit.
Whether for a first year or returning student, scholarships will be awarded on the basis of academic performance, proven interest/experience in the field of turfgrass science, and financial need. To be considered for any of these scholarships, candidates must complete the scholarship application form.
Scholarships from Other Organizations
Below is a list of scholarship opportunities from a variety of organizations to help you get started. Be sure to search the Internet for additional scholarships!
American Indian College Fund
The American Indian College Fund offers scholarships and other support to help American Indian students access quality higher education and succeed while they are there.
For more information, visit https://collegefund.org.
Community Foundation of the Eastern Shore,Inc. (Maryland)
The Drew Smith Memorial Scholarship honors Drew Smith, a superintendent from the Eastern Shore of Maryland, who worked in turf management for 13 years. He loved golf and volunteered his time at tournaments around the country, but passed away unexpectedly due to a heart condition in 2003.
For more information, visit: https://www.cfes.org/scholarships.
Eastern Shore Chapter GCSA in Maryland/Delaware
The ESAGCS has awarded more than $75,000 to over 80 students. Applicants must work for an ESAGCS member and be pursuing a career in turf management.
For more information, visit https://esagcs.org/outreach/scholarships.
GIE Media's Horticultural Scholarship
GIE Media serves various markets including lawn and landscape, nursery, greenhouse, garden centers, and golf courses. They are also the parent company of Golf Course Industry, and have established this scholarship to support college students working toward a degree or certificate in horticulture, environmental science, or other fields related to the green industry.
For more information, visit https://www.golfcourseindustry.com/page/horticultural-scholarship.
Golf Course Superintendents Association of America (GCSAA) Scholarships
GCSAA believes in investing in the future of golf and administers several scholarships for students pursuing careers in the golf course industry, future turfgrass researchers, children and grandchildren of GCSAA members, and foreign students studying in the US.
For more information, visit https://www.gcsaa.org/Education/Scholarships.
Mid-Atlantic Chapter GCSAA Scholarships
Scholarship applicants must be an employee of a MAAGCS member and have completed one year of employment for that member. Applicants must be enrolled in a turfgrass management course, and past recipients of this scholarship may reapply.
For more information, visit https://www.maagcs.org/Scholarships.
New York State Turfgrass Association (NYSTA) Scholarship
Students who are working toward a degree in turfgrass science or a closely-related curriculum may be eligible to apply for a NYSTA Scholarship. The candidate must be a member of the New York State Turfgrass Association and be entering their second year/session of school.
For more information, visit https://nysta.org/careers.html and scroll down to the Scholarships section.
North Dakota Golf Association and North Central Turfgrass Association Scholarships
The North Dakota Golf Association and the North Central Turfgrass Association offer scholarships to qualified applicants in golf course/turf management studies.
For more information, visit http://www.nctga.net/Scholarship.
Stephen T. Marchello Scholarship Foundation
The Stephen T. Marchello Scholarship Foundation is a non-profit organization that offers post-secondary scholarships to current year high school graduates, who are survivors of cancer. These are only awarded to students in Colorado and Montana.
For more information, visit https://www.stmfoundation.org.
Total Landscape Care Scholarship
This scholarship is being offered by one of Randall-Reilly's flagships brands, Total Landscape Care. Randall-Reilly is an 80+ year old Alabama based publisher of print and web content
For more information, visit https://www.totallandscapecare.com/page/tlc-scholarship.
Trans-Miss Turf Scholarship Fund
The Trans-Mississippi Golf Association has become a national leader in assisting young men and women pursuing careers in turf management. Students studying turf management at a number of schools across the country, including Rutgers, have received Trans-Miss Scholarships.
For more information, visit https://trans-miss.org/turf-scholarship.
Turf and Ornamental Communicators Association (TOCA) Scholarship
The TOCA Board of Directors awards scholarships to students pursuing careers in green industry communications.
For more information, visit http://www.toca.org/toca-scholarship-2.
Walter J. Travis Memorial Scholarship
The Walter J. Travis Memorial Scholarships are awarded in recognition of the remarkable accomplishments and contributions of Walter J. Travis in the game of golf.
For more information, visit https://travissociety.com/college-scholarship.
Tuition Service Agreements
Successful golf course superintendents and top sports field managers know that an educated staff is crucial to the success of their facilities, and they are increasingly willing to invest in employee education. In fact, employers help pay the tuition costs for students attending the Rutgers Professional Golf Turf Management School every year!
To formalize this process, many organizations draft contractual agreements, known as a tuition service agreements. These contracts specify the amount of financial support the employer will provide in exchange for a designated period of service during which the employee will put their new turf management skills to work for the organization.
For employers, these tuition service agreements are a great tool to increase employee retention rates. In other words, pay their way to get them to stay! For employees, these arrangements can lessen the financial burden of achieving a turf education.
Read our article "5 Tips on Asking an Employer for Tuition Assistance" to learn more about tuition service agreements and how they can help you fund your turf education at Rutgers.
"Our Assistant Superintendent, Jory Horsley, and I were both fortunate enough to have our club pay a significant portion of our expenses at Rutgers.
"This relatively small investment in our education has had a huge return on investment to the club as a result of our increased knowledge, and more importantly, the network that we were able to build while in New Jersey."
---